The Making Of Atlanta Luxury REALTOR® Tonya Hairston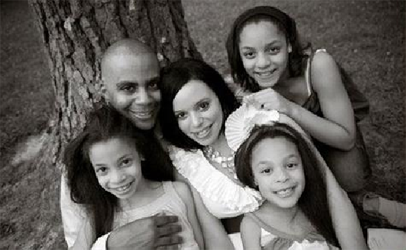 "In my Atlanta practice of real estate, I've found the man and the work I love."
As an Associate Broker with Solid Source Realty, Tonya Hairston lets nothing take precedence over servicing her buyer and seller clients' real estate needs. Helping others is what Tonya and her surgeon husband, Jahmal, were born to do, and by doing so, they model this core value for their three daughters, Carrington, Katelyn and Charity.
The Birth Of An Entrepreneur
Tonya began in sales in the eighth grade after begging her single-parent mom to let her take an after-school job. She set portrait appointments for a photography studio in Lafayette, Louisiana, where she and her older sister grew up.
Encouraged by her success, Tonya later went into sales and customer service with a local college. There, she eventually earned more working part-time than many working fulltime. She stayed in this position until high school graduation when the college laid her off.
"This layoff was a painful introduction into what can happen when someone else is in charge of my destiny," Tonya says. "And although I learned from the experience, it was a bitter lesson, because it happened soon after training six new employees in the methods I'd developed for increasing my sales. Of course, those six people had not been hired under the same pay structure as I."
Despite knowing at the time that sales and customer service were her calling, a disheartened Tonya followed her mom whose career is in human resources. "I don't view sales the way most people do," Tonya says. "I just see people who have a need, and I have the knowledge and the experience to get them what they want. It's really pretty simple."
Over time, she worked her way up to HR director. By then she was living in Jackson, Mississippi. And that was where she eventually hit the corporate glass ceiling.
Years back, Tonya's mom had warned her to beware making good money while still in high school because it could kill her motivation to go to college. And it had. Now as HR director, Tonya wanted to move up the corporate ladder but was told that to do so she must have a college degree. Never mind that neither the company president nor the HR president had one. Once again, Tonya felt the familiar sting of someone besides herself having charge over her destiny. And she disliked the pain enough to begin her search — a search within herself.
Led By The Spirit
Over the next months, Tonya felt led to real estate, and without hesitation, she set out to get her real estate license. "My intention had been to work in real estate part time, which I tried for a while," she says. "But whenever I make a decision and I'm passionate about it, I jump in with both feet. I don't believe in being good at 100 things — I want to be great at that one thing."
Tonya recalls the day she (and God) took charge of her destiny. "I went into work with no intention of putting in my resignation that day. And later, when I found myself typing my resignation letter, I thought what am I doing. I was so scared."
But that one scary act changed Tonya's life forever.
Those first years in real estate, many of her clients were employees she'd hired as an HR director, eventually over 150 of them from that last location. "I felt God had answered my prayer to be in His will. I knew I wanted to be where He wants me because I know if I'm in that place, that's where my success is."
Getting To The Promised Land
Tonya's thinking on success proved true. She did well in Jackson real estate and grew content with her life. "I was living in my comfort zone," she says, "when I started to feel a 'tugging' in my spirit. I ignored it for awhile until one day I was in a head-on collision with someone who had run a red light. I'd been on my way to pick up my kids from daycare. And when I came out of shock, the only thing I could think of was thank you, God, my kids were not with me."
Tonya's car had been totaled, although she says she felt fine. The ambulance driver, however, insisted she go to the hospital. On the drive there, one of her wrists began to swell, and she wondered if she had a broken arm. In the middle of all this, the EMT noticed her name tag and asked her about the market. "I managed to give her my card, as I always keep those with me. And talking about real estate made me forget my arm."
Sitting in the hospital bed trying to figure out what had just happened, Tonya's thoughts went back to a powerful dream she'd had years before directing her to Atlanta. Then and there in that hospital bed, she made her decision. She would move to Atlanta. She prayed everything would work itself out, and soon after, she stepped out in faith.
"And wouldn't you know," she says, "my home sold in two weeks with a full-price offer and no closing costs. All of my listings received offers and sold within one month. And my most difficult listing sold three days before I was scheduled to move — with a cash offer and a buyer who wanted to close the day after placing the offer!"
Tonya says God blessed her with enough money to move, a nice profit on her home and an insurance check from her broken wrist. (after seeing her car, she knew only a miracle had saved her from more injuries.) And to top it off, a good job awaited her in Atlanta.
"I transferred my real estate license and have found humble success growing my business in Atlanta. I even met my husband here. All that time back in Jackson, God was trying to get me to my 'Promised Land.' I'm just so glad for second chances and the blessings He's bestowed on me."
Starting Over
Even with God's blessings, she had to start over in Atlanta and build her real estate business from scratch. This is always a struggle when an agent is new to a city and knows no one. And it proved so for Tonya. But with a strong vision to guide her, long hours and a lot of hard work, she reestablished herself and now serves the real estate needs of some of Atlanta's highest-profile residents.
Delivering On The Big Promise
Tonya attributes the success of her Atlanta VIP Properties real estate practice to her delivery on the "Big Promise" she makes to her clients. To homebuyers, she promises dogged pursuit of the home they desire, even if it doesn't currently exist on the market. And to home sellers, she promises dogged pursuit of that affluent buyer who will fall in love with their luxury home and make an offer. She delivers on her promise to both by using creative thinking and extravagant event marketing.
Tonya says, "Also, as typical as this may sound, it really isn't typical in the real estate industry: I promise to communicate with my clients promptly and frequently. I'm always amazed at how many clients tell me that prompt or frequent communication was lacking in their first attempts with other agents."
In her business, Tonya uses many of the same tools that are available to most agents. But whatever she needs to do for someone, she does it quickly. "If I say I'm going to do something, I get it done quickly. I'm very responsive to people's needs."
Also, Tonya has a standard she sets for herself: she answers every phone call herself, and if she can't, she tries to return all calls within the hour. If she can't do that, her voicemail message lets her clients know how long she'll be tied up and at what time she will return calls. "My approach to real estate is really just common sense and common practices that we all should have and use, but most don't."
Launching Her Brand
A while back, Tonya realized that an important ingredient in the real estate success formula is establishing a strong personal brand and staying in front of the desired audience. By doing this, she would give her potential clients the opportunity to become familiar with her. And ideally, through her authenticity and transparency, they would also come to like and trust her.
This was her goal in creating her brand — a brand that reflects her professionalism, style and personality and a brand she's proud to market. A large part of Tonya's branding strategy has been the custom design of her Web site at AtlantaVIPProperties.com, which expresses her real estate passion, knowledge and expertise presented in her authentic voice.
Anyone with an Atlanta real estate need should look Tonya up. But don't be fooled by her polished feminine look and genuine smile. She represents her clients with an iron fist and is a fearless negotiator. And while she comes across to her competitors as no nonsense and professional, she is also known to be easy to work with and is well liked within the real estate community.
"All of my approaches are meant to do one thing only," she says. "To get my clients what they want."
Mission Statement
To bring knowledge, professionalism, discretion and ethics to every home buying or selling experience.
Credentials
Licensed Real Estate Broker
Member of The Institute for Luxury Home Marketing
CFS – Certified Foreclosure Specialist
20+ years in the Service and Sales business
Member – Metro & First Multiple Listing Services
Former Human Resource Director
Accomplishments
Listing agent of the month
Sales agent of the month
Million Dollar Producer
Areas of Expertise
Luxury Home Marketing Expert
Technology Savvy
Seller Representation
Buyer Representation
New Homes Sales
Investment Properties
Foreclosures
Relocation
Contact Me Today
A quality relationship between a home buyer or seller and their agent is based on mutual trust, open communication, shared goals and clear understanding. To foster a quality relationship with you, I listen to you and do everything possible — using my real estate knowledge, experience, skills and professional network connections — to get you what you want.
Tonya Vercher Hairston, REALTOR®
Distinctive Homes. Distinctive Lifestyles.